Welcome to Mr. T35

Mr Tee Thirty-Five Pvt. Ltd is a wholly Zimbabwean owned company established in 2009 to provide Mazda T35 service to corporate individuals and organizations with all their purchasing, mechanical, Spray painting, auto electrical and refurbishment related requirements of all T35 vehicles. The company has grown steadily from strength to strength and has become a one stop service provider leader in its eld. Its formation was in response to the growing demand for T35 vehicles in Zimbabwe. We endeavor to use our breath of experience, capabilities and strength to create unending value for our clients, employees, partners, shareholders and society as a whole.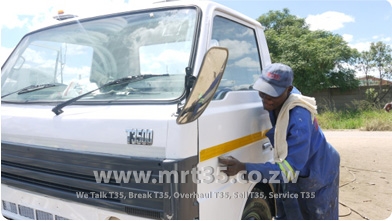 Introducing- The New Mazda T35 Trucks & Buses
Introducing- the new Mazda T35 Trucks & Buses from Mr T35 leading supplier of passenger buses from 21 seater to 51pax. The new trucks 3.8ton plus 4.5 t come at amazing knock down price at the new assemble Cnr Simon Mazorodze & Harare Drive. order now to secure your key to success. Read More »
Specialists In:
Engine overhaul
Suspension
Auto electronics
Spray painting
Panel Beating
Buying and Selling
Corporate Identity
The company's edge over new entrants is that MR T35 also has a foot-up on the new entrepreneurs thanks to the trained manpower we use and continuously develop. Mr T35 Brand
recognition can be identified by countless amounts of people around Zimbabwe thanks to the
Goals
MR T35's awareness of its customers attributes is what keeps them ahead of their competitors
and as a customer favorite. Extensive research is done by the company each and every year to figure out what customer's preferences in MODEL, DURABILITY , comfort, and price.